INFLAME INFERNO DARK Mesh Jacket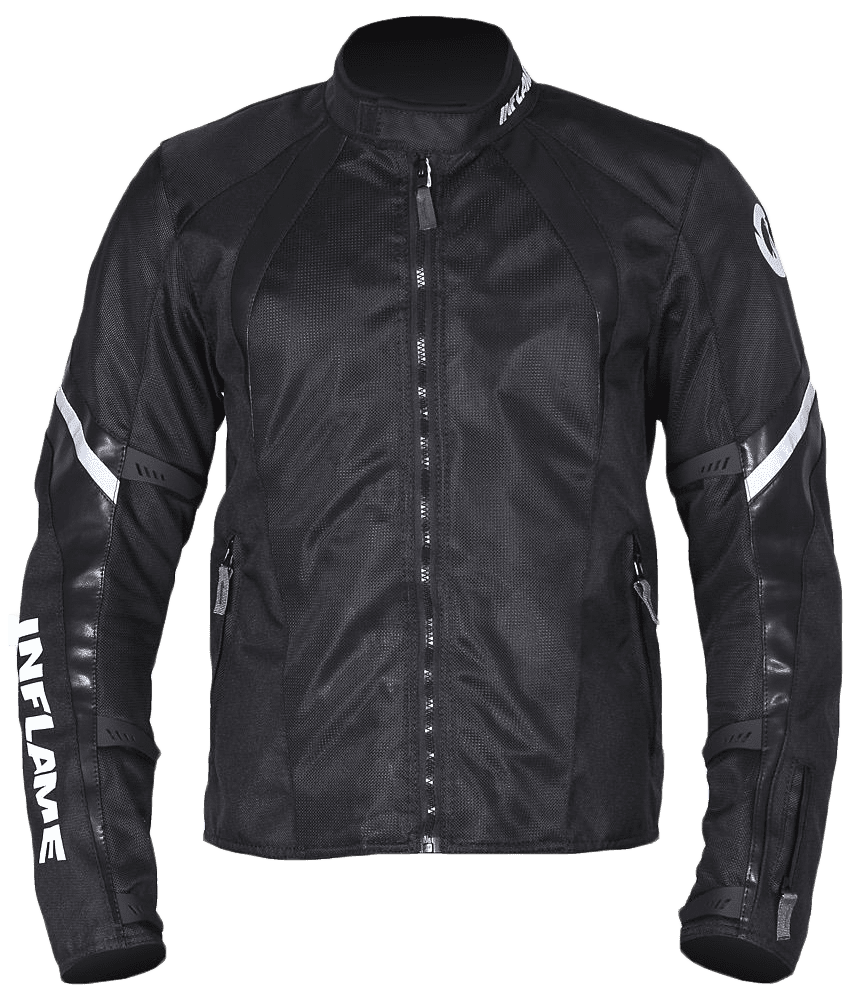 INFLAME INFERNO DARK Mesh Jacket
€110
Suggested Retail €
Article: K10800N
The updated INFERNO DARK textile motorcycle jacket, now with Waterproof Mesh (a coating with a zero surface tension). If the weather goes bad, it will win a few minutes to reach a shelter or put on a rain suit.
Fully ventilated, high tenacity poly mesh construction of jacket will provide reliable protection for safe and comfortable commuting in a warm or even hot weather. The abrasion resistant main outer materials are complemented by CE approved inner protectors on the elbows and shoulders (POWERTECTOR ®, EN 1621-1: 2012, Level 2) and replacement back foam insert. Wide opportunities for adjustment to body due to updated Velcro straps on the sleeves and waist. Specific motorcycle cut with pre-curved arms to be tighter to the body, making it comfortable during the riding. Leather inserts in design gives to the jacket more character and style.

Made in Russia.
Outer material 100% poly high tenacity mesh with water-resistance treatment (coating with zero surface tension);
Soft breathable mesh lining;
Reinforced seams;
Shoulder and elbow protector pockets with included removable CE approved armor;
Pocket for optional back protector (7mm thick foam insert included);
Neck adjustment;
Three-point sleeves adjustment;
Hem adjustment;
Stand collar for neck protection against the wind;
2 outer deep zippered hand pockets;
1 outer functional zippered pocket on sleeve (for the right hand);
1 inner waterproof pocket;
Reflective elements.
Removable shoulder protectors - CE EN 1621-1:2012 Powertector® HEX-EK, Level 2;
Removable elbow protectors - CE EN 1621-1:2012 Powertector® HEX-EK, Level 2;
Removable back foam insert (7mm thick) (Can be replaced, for example, on POWERTECTOR IMPACT CORE PRO B, POWERTECTOR LIGHTWEIGHT and others).
Powertector® inner protectors:
Material: Bio Elastan;
Level 2;
Ultra light;
CE certified to EN 1621-1 : 2012;
High level of flexibility for a comfortable fit to the protected areas of the body;
Ergonomic design;
Temperature stable;
Patented shock absorption system - HPS (Honeycomb Protection System).
The Bio Elastan is a superior intelligent foam that uses patented technology to deliver unprecedented levels of impact safety and comfort for the extreme activities. It is comprised of innovative materials that instantly become rigid upon impact, but flex with body movements when protection is not required. The unique physical molecular structure absorbs and distributes energy away from the impact area, greatly reducing impact forces transmitted to the body. Stable flexibility in any temperature giving the rider great freedom of movement. It is stable from -20°C to 40°C and displays no loss of impact performance or flexibility at low temperatures.