INFLAME CARGO WP Textile Pants
MORE PROTECTION AND COMFORT.
BE READY FOR ANY WEATHER SURPRISES!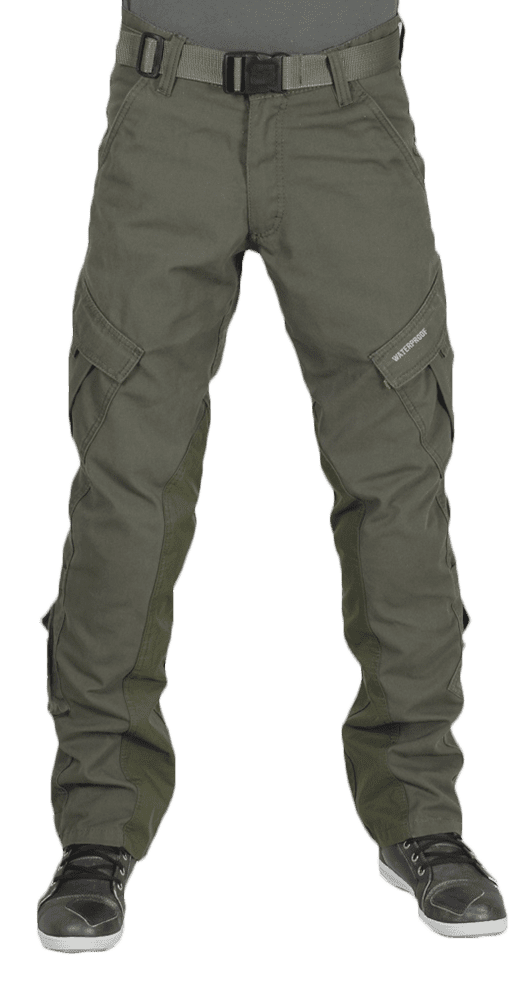 INFLAME CARGO WP Textile Pants
€165
Suggested Retail €
Article: C10290W
We all love сargo pants for their comfortable fit and lots of useful pockets, allowing to have the extra space for all of our riding essentials in anytime. Whatever the place - from dusty roads to dusty streets. Whether we're commuting or exploring new roads, we really love to ride. We need comfort and protection. We need cargo pants. These pants took it one step further and reached a new level of strength. CORDURA® panels at the inside of the legs exclude all risks of wiping fabric on motorcycle parts. Twaron® aramid reinforcement and removable hip and knee armor made these pants are the perfect weapon for each rider.
Due to the smart water repellent coating INFLAME CARGO WP (WATERPROOF) are also the smartest and the most usable pants in our gear collection. They will keep you dry and protected in all your two wheel adventures. Classic comfort fit will provide comfort during a long trip. If the rain, a water repellent coating will win some time to reach shelter dry. CARGO Waterproof pants is what you need to be ready for any weather surprises.
Made in Russia.
Main outer material durable canvas (55% Cotton, 45% Polyester);
Water-, oil- and dirt-repellent Swiss outer coating;
CORDURA® panels at the inside of the legs;
Seat and knees reinforced with Twaron® aramid;
Comfortable lining, between the body and aramid;
Safety seams with reinforced threads;
Pockets for hip armor (armor sold separately);
Height adjustable pockets for knees armor (Powertector® Level 2 armor included);
Two-point width adjustment system at calves and ankles;
Multiple Cargo-style roomy pockets with closures: 2 rear and 4 side (+2 front hand pockets).
CE certified to EN 1621-1:2012 Powertector® knee armor;
Replacement hip foam EVA inserts (5mm thick) - replacement options, for example, Powertector® HEX PRO-HIP, SAS-TEC SC-1/KA new, SC-1/07, SC-2/07, SP-2/20 and others suitable for the pocket size;
Belt;
Branded packaging - canvas shoulder bag.

Powertector HEX-EK armor:

Application: knee;
Material: Bio Elastan;
Ultra light;
CE certified to EN 1621-1 : 2012;
High level of flexibility for a comfortable fit to the protected areas of the body;
Ergonomic design;
Temperature stable;
Patented shock absorption technology - HPS (Honeycomb Protection System).

The Bio Elastan is a superior intelligent foam that uses patented technology to deliver unprecedented levels of impact safety and comfort for the extreme activities. It is comprised of innovative materials that instantly become rigid upon impact, but flex with body movements when protection is not required. The unique physical molecular structure absorbs and distributes energy away from the impact area, greatly reducing impact forces transmitted to the body. Stable flexibility in any temperature giving the rider great freedom of movement. It is stable from -20°C to 40°C and displays no loss of impact performance or flexibility at low temperatures.