Motorcycle jacket INFLAME BREATHE
BREATHE with the CITY. FUNCTIONALITY AND PROTECTION OF MODERN TECHNOLOGIES.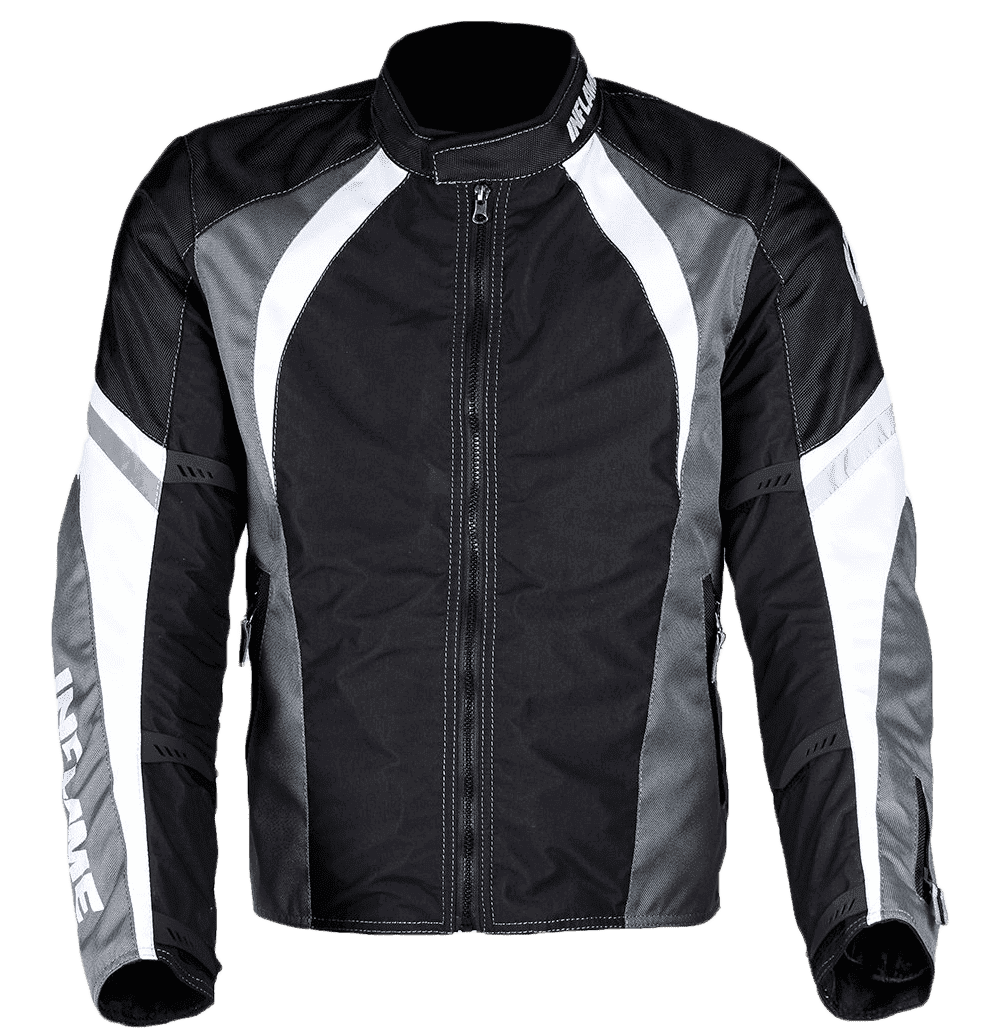 Motorcycle jacket INFLAME BREATHE
€123
Suggested Retail €
Article: K10760
The main feature of inflame BREATHE motorcycle jacket is a combination of breathable, moisture-and wind-resistant membrane with ultra-strong mesh. Wear-resistant mesh will protect the body when sliding in case of emergency. A membrane will provide comfort when driving in the off-season, creating the right microclimate in different weather conditions. At +20°C it will not be hot due to the ability to breathe to evaporate the moisture and warmth in cold windy weather from +5°C thanks to the removable liner it will save generated by body heat and will not be blown by the wind.

Made in Russia.
Material: ultra-strong wear-resistant mesh + membrane fabric;
Reinforced seams with maximum tear protection;
Pockets under protective inserts in points elbows/shoulders/back;
Removable insulated liner;
Adjust the figure by a system of Velcro VELCRO premium;
Stand-collar to protect your neck from the wind;
Functional arm pocket for the right hand;
Internal waterproof pocket;
Retroreflective back/sleeve;
Attachment for motorcycles trousers
Removable protective inserts shoulders Powertector HEX PRO-S (LEVEL 2) - 2 PCs.
Removable protective inserts elbows Powertector HEX PRO-EK (LEVEL 2) - 2 PCs.
Removable dorsal insert of Peva (thickness 7 mm) with the ability to replace protection POWERTECTOR CORE IMPACT PRO B, etc. POWERTECTOR LIGHTWEIGHT - 1 EA.
Powertector insert HEX-EK:;
Material: BioElastanProtective
Weight: 72g (±2G) ultra-light;
CE certification according to EN 1621-1: 2012;
High level of flexibility for a comfortable fit to the protected areas of the body;
Ergonomic design;
Patented shock absorption technology-HPS (Honeycomb Protection System).
BioElastan - excellent shockproof material. Intelligent foam, which is produced by a special patented technology and provides a high level of safety and comfort in extreme activities. It has excellent shock-absorbing properties, providing instantaneous dissipation of the impact force on the entire area of protection, reducing the risk of injury to the point of impact. In addition, bioelastan is a temperature-resistant material that remains stable and flexible in both cold and hot weather, so it is perfect for both summer and off-season gear.
Sizes
XS
S
M
L
XL
XXL
3XL
4XL
5XL