DENIM CASUAL FOR URBAN TRAFFIC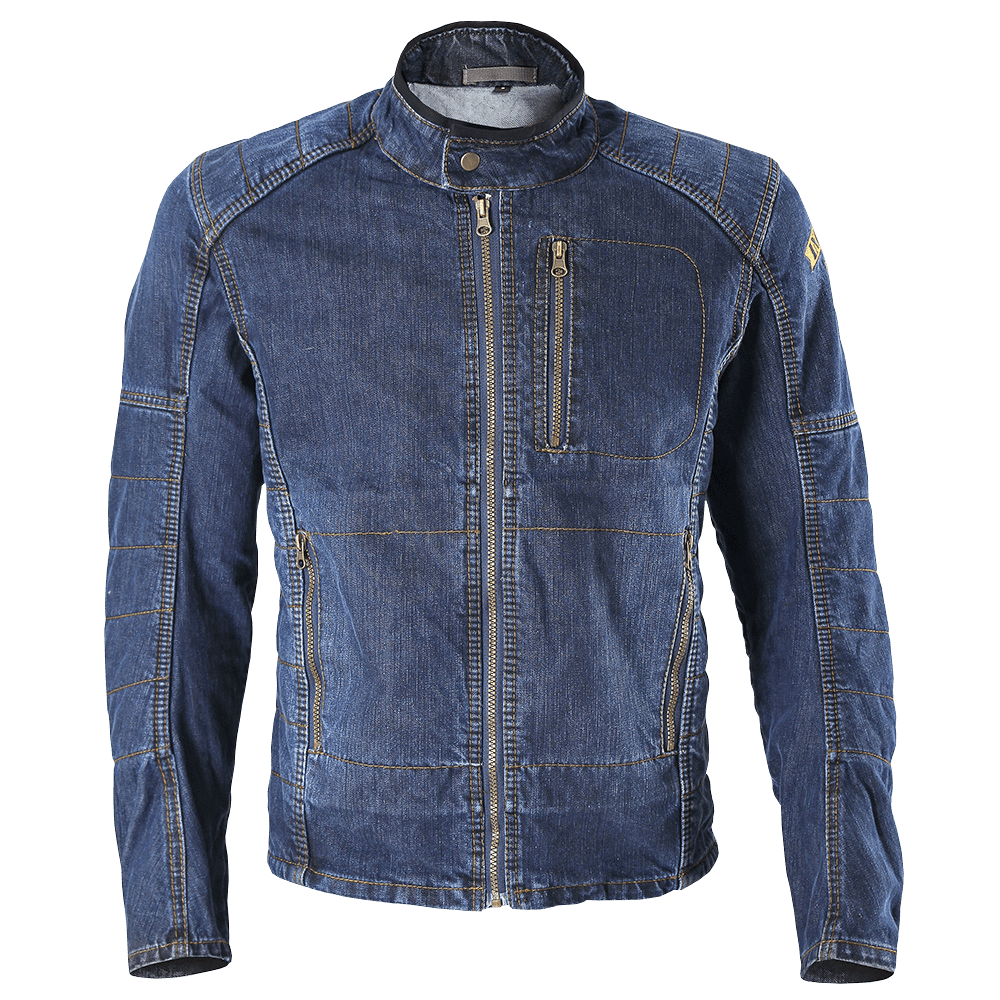 Jacket INFLAME DANDY
€154
Suggested Retail €
Article: K10230
Motorcycle denim jacket INFLAME DANDY - is a casual urban look jacket for bikers with high-class protective properties. The special motorcycle cut with slightly curved sleeves guarantees a comfortable riding throughout the day. Made with exceptional quality standards, this jacket is made of original durable denim and reinforced with a large area of aramid inserts and double seams with maximum tear protection. The denim classic for urban riders.

Made in Russia
Upper material: 14 oz natural denim.
Reinforcement with European aramid Twaron in the areas of highest load.
Comfortable lining, between the body and aramid.
Reinforced seams with maximum break protection.
Pockets under the protective inserts at the points of the shoulders/elbows / back.
Adjustment the position of the protective inserts in the pockets.
Safe plastic zippers, stylized metal.
Two classic outer side pockets, one chest pocket.
Stand-collar with snap closure.
Removable protective inserts shoulders Powertector HEX PRO-S (LEVEL 2) - 2 PCs.
Removable protective inserts elbows Powertector HEX PRO-EK (LEVEL 2) - 2 PCs.
Removable dorsal insert of Peva (thickness 7 mm) with the ability to replace protection POWERTECTOR CORE IMPACT PRO B, etc. POWERTECTOR LIGHTWEIGHT - 1 EA.
Protective insert Powertector:
Application: knee;
Material: BioElastan;
Weight: 72g (±2G) ultra-light;
CE certification according to EN 1621-1: 2012;
High level of flexibility for a comfortable fit to the protected areas of the body;
Ergonomic design;
Patented shock absorption technology-HPS (Honeycomb Protection System).
BioElastan - excellent shockproof material. Intelligent foam, which is produced by a special patented technology and provides a high level of safety and comfort in extreme activities. It has excellent shock-absorbing properties, providing instantaneous dissipation of the impact force on the entire area of protection, reducing the risk of injury to the point of impact. In addition, bioelastan is a temperature-resistant material that remains stable and flexible in both cold and hot weather, so it is perfect for both summer and off-season equipment.