Motorcycle jacket INFLAME ECSTASY
ECSTASY... A name that SPEAKS for ITSELF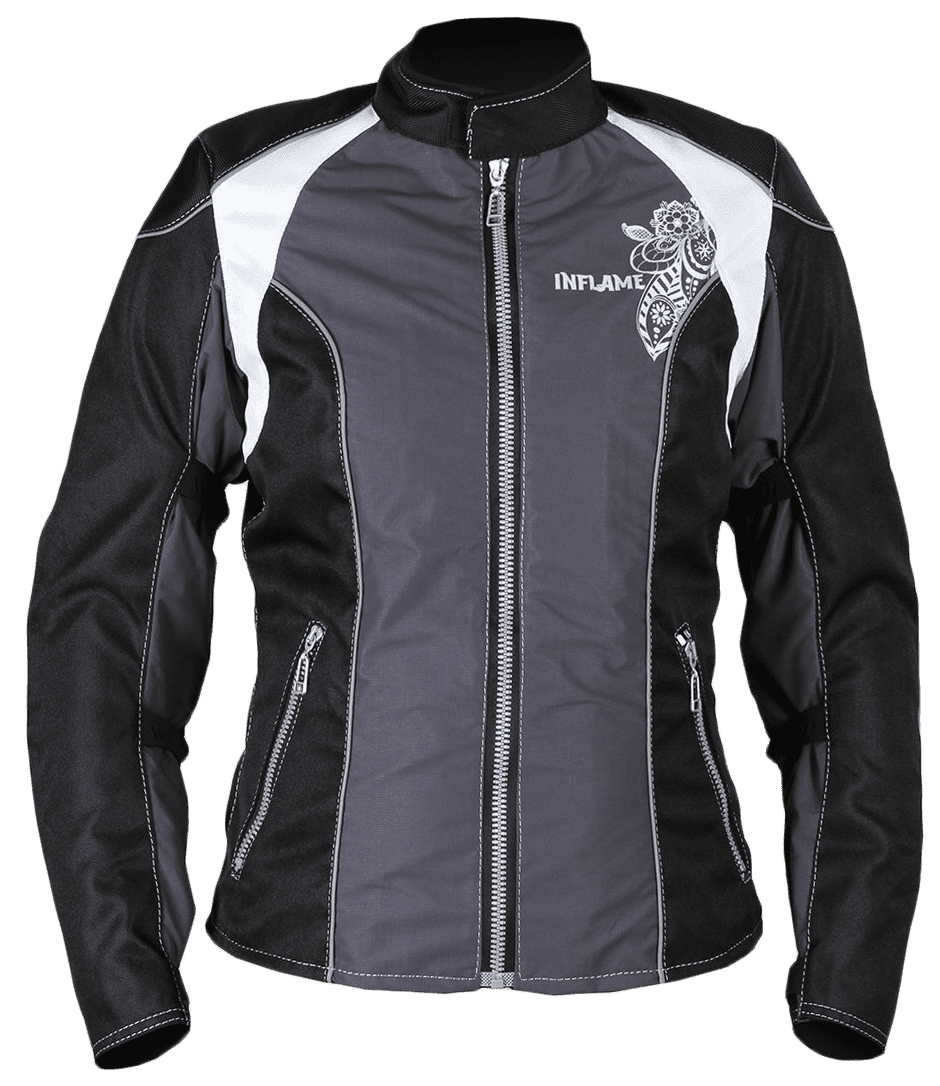 Motorcycle jacket INFLAME ECSTASY
€123
Suggested Retail €
Article: K20160
Durable textile motorcycle jacket is extremely versatile in a variety of weather conditions. Ideal for the beginning of the season, when the temperature can fluctuate from + 5 to +20°C. the Combination of breathable, moisture-and wind-resistant membrane with ultra-strong mesh allows you to get maximum comfort and protection. It will not be hot due to the ability to breathe to evaporate the moisture and heat, and in cold windy weather will be comfortable and warm thanks to removable lining Special cut for the female figure. Interesting decorative embroidery on the chest. Protection included.

Made in Russia.
Material: ultra-strong wear-resistant mesh + membrane fabric;
Reinforced seams with maximum tear protection;
Pockets under protective inserts in points elbows/shoulders/back;
Removable insulated liner;
Adjust the figure by a system of Velcro VELCRO premium;
Stand-collar to protect your neck from the wind;
Functional arm pocket for the right hand;
Internal waterproof pocket;
Retroreflective back/sleeve;
Attachment for motorcycles trousers
Removable protective shoulder inserts SAS-TEC - 2 PCs.
Removable protective inserts elbows SAS-TEC-2 PCs.
Removable back liner made of PEV (5 mm thick) with the possibility of replacement.- 1 PC.
Insert SAS-TEC
Material: Viscoelastic
Weight: 72g ultra-light
Size: (L/W/T) mm 250/160/11
CE certification according to EN 1621-1: 2012
Protection level: Level 2
Ergonomic design.
Ventilation through holes.
Included you will find 3D-protectors from the well-known German brand SAS - TEC, made of high-tech material-viscoelastic, with a high level of shock absorption. In addition, the protective inserts are not destroyed in case of impact and can be used for further protection. They can be cleaned, remove dirt with a damp cloth, water absorption of the material is less than 1%.